EMCEEINTERBIZ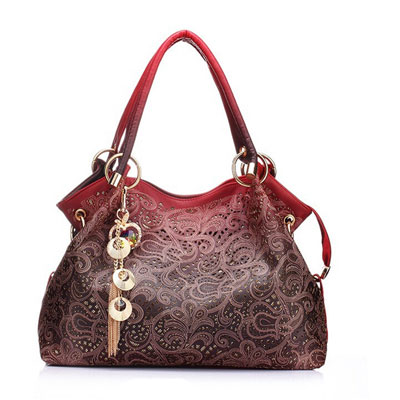 Our Price: $38.15
FEATURED TCD PRODUCT OF THE WEEK
Women's Designer Fashion Bag: GO TO:
https://www.tripleclicks.com/13234116/detail?item=586003
Add some modern flair to your wardrobe with this beautiful Women's Designer Fashion Bag. Easy to clean, this stylish purse is made from soft, durable PU leather with a luxurious fabric lining. The bag features perfect length tubular top handles, decorated with removable tassel and rhinestone charm, and is characterized by a lovely gradient color, hollow-out patterned texture, and a free-standing hard bottom. A roomy zippered main compartment provides ample storage and easy access for all your essentials, while two interior pockets helps you organize smaller items and a larger back zipper pocket safely stores your smartphone or keys.
Compact and lightweight, this designer bag is perfect for daily use at the office, school, or travel, yet sophisticated enough for evening outings. It's sure to draw many compliments and will become one of your favorite…
View original post 21 more words